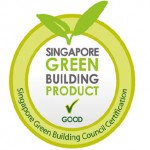 Jessup, MD-­‐ November 2015-­‐ Larsen Products Corp. is pleased to announce its Weld-­‐Crete® concrete bonding agent has been certified under the Singapore Green Building Product (SGBP) labeling scheme through The Singapore Green Building Council (SGBC). Obtaining this certification means Weld-­‐Crete® has fulfilled the stringent standards of the labeling scheme, meeting several green attributes and eco-­‐friendly performance standards.
Larsen Products has made a continued effort to strengthen its international relationships in recent years, specifically in the Far East. Receiving this certification from SGBC further solidifies the company's efforts to adhere to environmentally friendly best practices so important to Singapore and the global building community.
"We are very pleased to have met the criteria to receive this certification from The Singapore Green Building Council," said Jeff Larsen, president of Larsen Products. "We are excited to not only enhance our brand recognition in the Far East but, to be recognized as an international manufacturer of environmentally sustainable products. Obtaining this certification unifies our efforts to accomplish both of those objectives."
The Singapore Green Building Council is the only non-­‐profit organization with a concerted private-­‐public sector partnership to achieve a world-­‐class and sustainably built environment in Singapore. SGBC's key goal is to advocate green building design, practices and technologies and drive environmental sustainability in the building and construction industry.
About Larsen Products Corp.
Over half a century of industry knowledge and experience has been poured into Larsen Products bonding agents. Larsen's Weld Crete® concrete bonding agent and Plaster‐Weld® plaster bonding agent have been specified by major architects, engineers, and construction companies internationally, ever since its inception in 1952. Larsen Products takes pride in its reliability, consistency, and overall product quality.
For more information on Larsen Products, please visit: http://www.larsenproducts.com or call (301) 776-­‐4595.
Media Contact:
Jodi Mayo Alessandri
MG Media, LLC
856 US Highway 206
Suite B11
Hillsborough, NJ 08844
(908) 874-­‐9200